39th Annual
Production Bonanza Sale
Saturday, April 4, 2020 at the Ranch
1:30 PM (Central Time)

Click here to view Annual Sale Information
Examples from 2015 Annual Sale


Dam of Lot 1


Champion Net Return Steers
at 37th Annual Great Western Beef Expo!!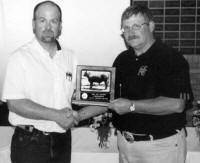 Sterling, CO - Pictured is Doug Harsh from the Dusty Prairie Ranch, Bartley, Neb., receiving
the Champion Net Return Award at the 37th Annual Great Western Beef Expo Awards
Program from General Manager, David Colburn. The Champion Net Return pen was sired by
the Amerifax bull Super J. This pen of steers also received the Champion award in Carcass Price/Lb.

This Is What Dusty Prairie Ranch Genetics Can Do For You!
• Top Black Genetics
• More Live Calves With Great Weaning Weights
• Improved Feedlot Performance an Carcass Quality
• Females With Longevity, Better Dispositions, Conception Rates
• 24 Years Of Carcass Testing With Proven Results From Cattle With Bred-In Performance


Doug Harsh
71594 Road 404 - Bartley, NE 69020
PH: 308-350-2500
Dougharsh1965@gmail.com

Breeding Cattle Page | Show Cattle Page
Designed by EDJE Technologies, Inc.